When Gold Confiscation Is a Personal Choice
lawrieongold
By Guy Christopher*
That nagging prospect dampens many buying decisions, unfortunate at a time when gold, and especially silver, are near historically bargain basement prices when measured in fiat currency.
Buy low, sell high only works for those who buy low.
Somewhere in everyone's buying decision is rebellion against government lunacy. So, what's the plan if government outlaws that defiance?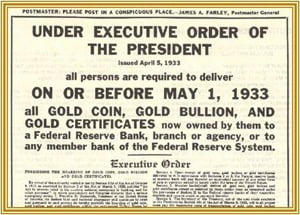 In examples spanning eight decades over three continents, ordinary people caught in very different circumstances chose to defy government repression of personal gold ownership.
In the 1930's, President Franklin Roosevelt and Nazi dictator Adolph Hitler joined global, repressive trends by outlawing private ownership of more than five ounces of gold.
Many skeptical Americans responded by stiffing FDR, shipping outlawed gold overseas for safekeeping, or burying it on family farms. That gold remained hidden for four decades, until Gerald Ford lifted restrictions in 1974.
Europeans targeted by Hitler's murderous genocide improved…
View original post 859 more words